I just found this blog thru Twitter. Do not have a Twitter acct, go join!!!
At
http://www.theclothdiaperwhisperer.com
They blog wayy cool advice for cloth mommies, review diapers and products. Its great!!! Best of all they have GIVEAWAYS!!! This weeks:
Welcome to this week's giveaway!

What would you win:
A
GroBaby System Sample Kit
, which includes (2-
Gro Baby Shells with 2 snapa in soaker and 2 boosters
and 1-
Gro Bab Snap-in soakers 2pk)

PLUS
ONE-
Magic Stick Diaper Ointment
This week's giveaway is generously given by the manufacturer.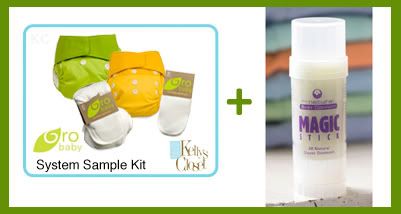 What to do?
Simply leave a comment telling us
how many diapers do you own and how many you would like to have?
Don't forget to leave a way for us to contact you if you're the winner. You don't need to have a blog to win, but be sure to leave your email address if you don't have one.
Interested?
Click on the button and go enter!!!!!!!!!!